Today I started drilling the skins of the Horizontal Stabilizer (HS). The skin comes predrilled but the holes all need to be drilled out to the final size (#40). Also the forward spar, between the root rib (E-705) and main rib (E-708), is not drilled. The skin is pre-drilled in this area, but not the spar.
Some special care needed to be taken when I drilled these hole because of the addition of the F1 Rocket Mod HS-3201 spar stiffener. As shown here – Evo H stab
The HS-3201 stiffener is 0.125 inch thick and when drilling through the forward spar, I didn't want to be hitting the stiffener with the drill bit. As shown in the picture below, I cut a scrap piece of wood to hold the stiffener tight against the back side of the forward spar. I couldn't use any clamps because I need to put the skin back down and cleco it all together. So this was my solution.
Here is a picture of the forward spar drilled between the main rib and the root rib.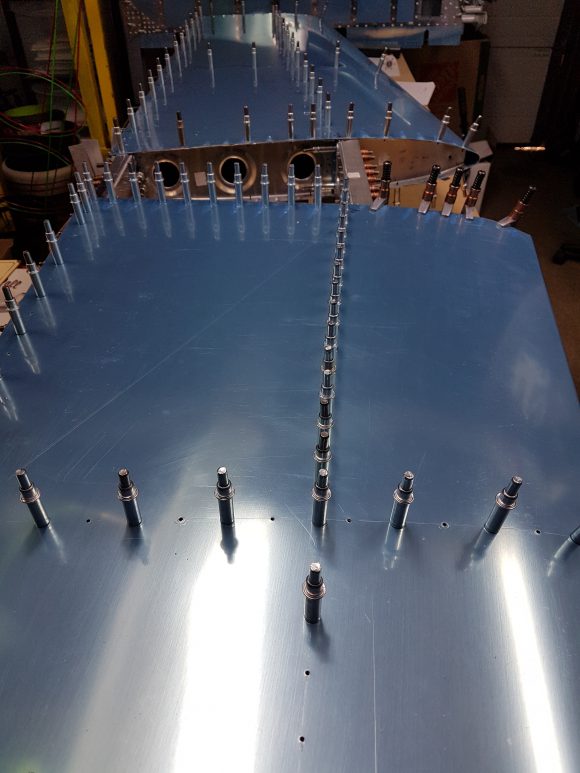 Next I drilled the rivet holes in the HS-810-1 and HS-814-1 reinforcing angles to final size (#30). Again, you will see that I'm also having to drill through the F1 HS-3201 spar stiffener here too.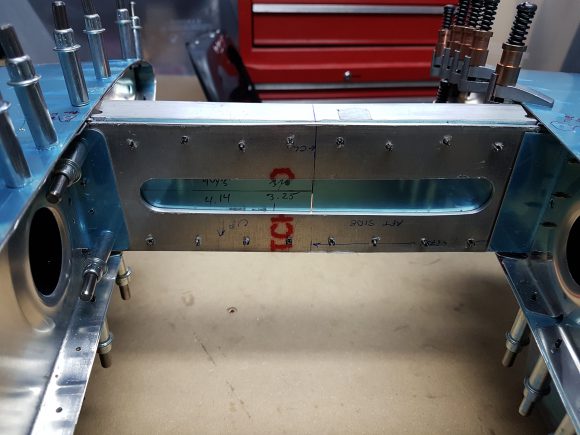 Please comment, I love to hear from my readers.  Thanks again for coming along for this ride, you make my work worthwhile.