No one ever said that building an F1 Rocket would be easy. This certainly isn't the case as the rear wing spar dimensions are not easy to come by, even though all the information is there in the plans. It's just not laid out very well.
OK, as is with all problems, lets start out with the basics and then build upon them to paint the entire picture. The starting point for the wing rib locations is the Zero (0) Wing Root location, as shown on Drawing 112, as in the picture below.
As you will notice the 0 wing root is measured along the top surface of the main wing spar. All rib spacing on the HRII drawings is taken from this point, but not all measurements are taken from the top so be careful!
The 0 wing root location is located at 17.0 inches out from the wing root (when measured along the lower surface of the wing spar).
The rear wing spar root is the inboard edge of the spar web. This DOES NOT include the 2-inch flange of the W-407B or W-407D parts. The inner edge of the rear spar web aligns with a point located at 15 11/16″ on the main spar, as measured from the root outboard – ON THE LOWER SURFACE of the main spar – NOT the upper surface. The 15 11/16″ dimension is found on drawing 109.
Offset Dimension
When this offset of 15 11/16″ is subtracted from the 17.0″ (0 wing root) dimension the difference is 1 5/16″ (1.3125″). Therefore, the 0 wing root on the rear spar is located 1 5/16″ outboard from the rear spar root.
The reason for this 1 5/16″ offset is because the inboard most rib (Rib # 1) is not perpendicular to the either wing spar but is angled as shown in the image below.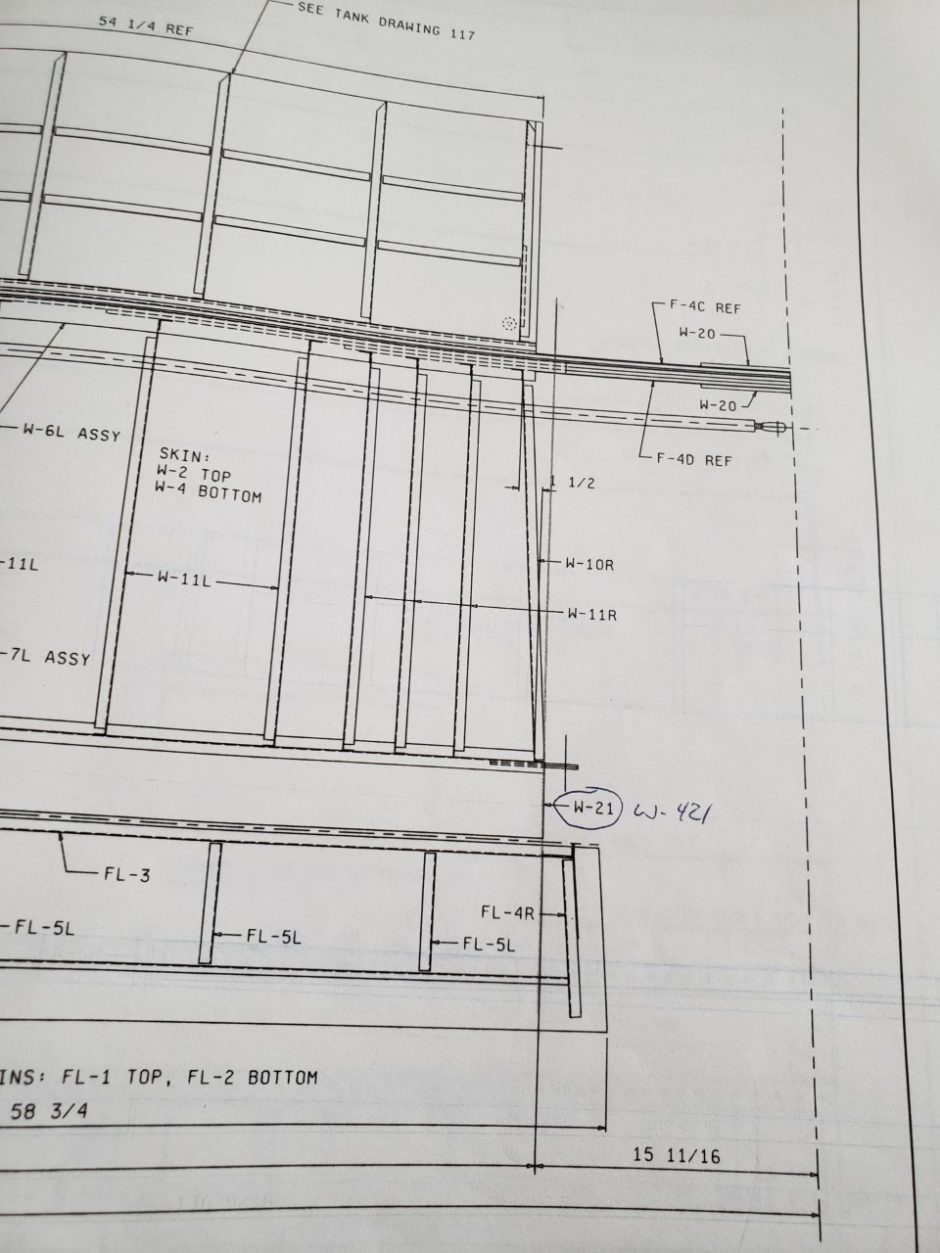 From here, I took all the wing rib location dimensions and added 1.3125″ to each. With a little basic math, I can now lay out all the rear spar rib locations with a certain degree of confidence, as the HRII plans are not very forthcoming with this info.
Rear Spar Rib Spacing Dimensions
Below are the dimensions that I was able to come up with and that I used.
Mathematically, this should provide all rib spacing along the rear spar. Now it's time to go back and verify the actual rib spacing.
As always, please comment. I love to hear from my readers.  Thanks again for coming along for this ride, you make my work worthwhile.