Today I am progressing with the work on the vertical fin assembly. In the picture shown below I have all the vertical fin parts laid out on the table. These are all RV-8 parts except for the 2 forked doublers which you will see in greater detail in the following photos.  As mentioned in previous posts, these doublers are for the F1 Rocket modifications and were hand made.  At the time of this post, these F1 Rocket parts were not available for purchase.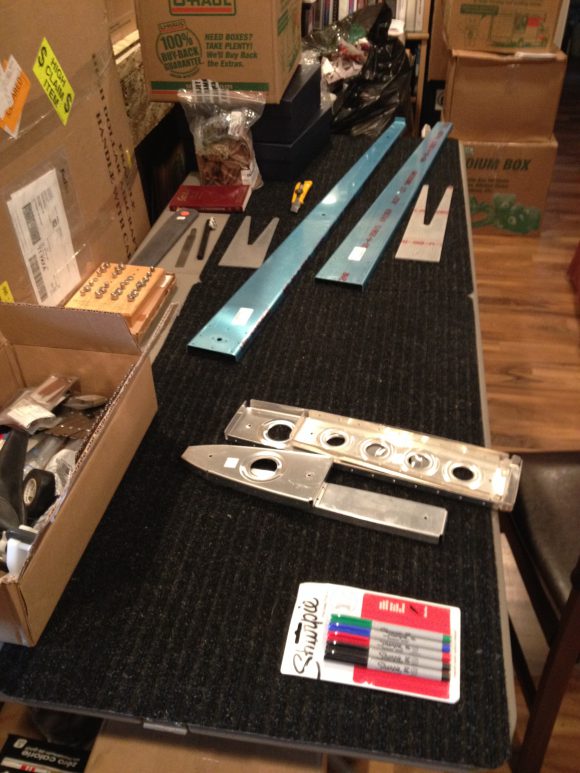 Building in a basement apartment
Just a few comments on building and work space.  In many builders logs you see that they have really awesome garages, hangars, man-caves and build areas.  Don't think that this is necessary.  As you can see in many of my photos during this stage of my build, my work space isn't the ideal, but it works.  I make it work!
I just moved across Canada from Ontario to Edmonton and am living in a basement apartment.  Having come from a house (with no garage) and a hangar where I'm engaged in building this F1 Rocket project and my Stewart S-51 Mustang, I have lots of stuff. I'm not going to be living here in the basement forever, but for now I still want to be active in building.
What I've done is to get a little work table set up, with just my essentials. I have also picked areas of the project that are small enough to work on while in this situation. All in all, if you want to build a plane and don't have the best circumstances to build in, just remember, you can always find a way to make it work, if you want it bad enough.
F1 Rocket Front Spar Doublers
In the picture below I have shown the doubler on the front side of the forward spar. These doublers are 2024-T3 aluminum, 0.125 inch thick.  You will also notice that I have the location of the spar on the rear side of the spar laid out on the front side. I did this to make sure that my rivet edge distance and spacing will match when I drill both doublers.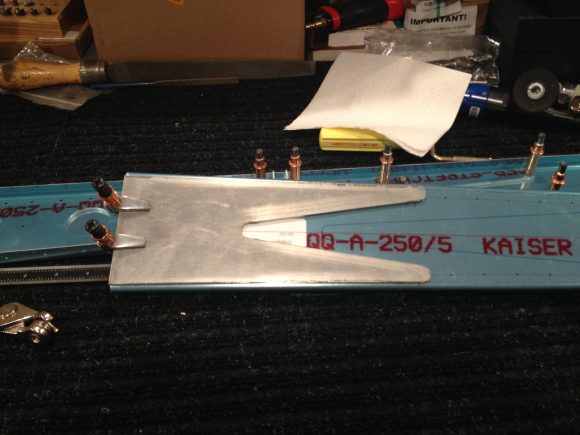 The photo below shows the progressing with having pilot drilled (#40) the doublers.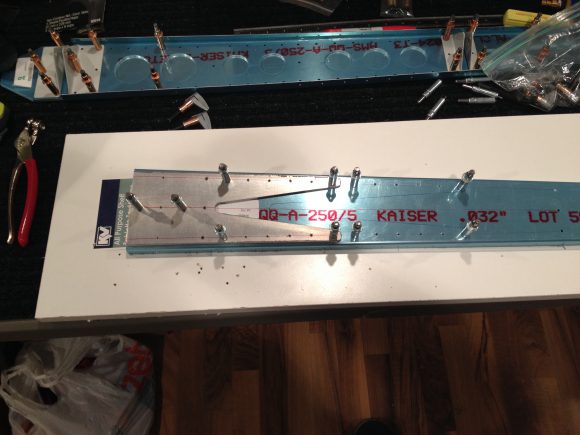 Once I got the drilling completed I assembled the structure of the vertical fin to see how everything was fitting together.  Again, you will note the limited space I was working with in the basement apartment.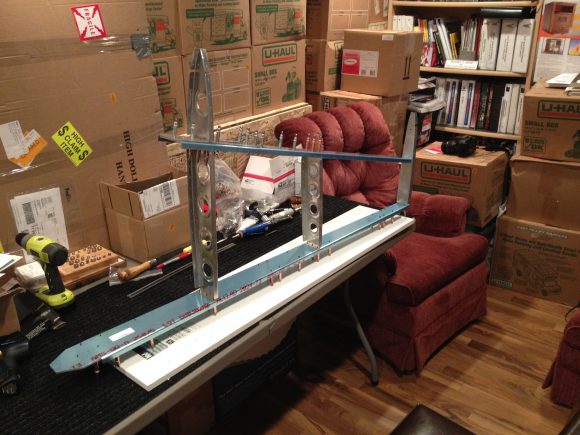 Please comment, I love to hear from my readers.  Thanks again for coming along for this ride, you make my work worthwhile.