This evening I started construction on the vertical fin assembly. Since I'm starting with a standard RV-8 empennage kit, I'm going to be adding a few structural mods to "Rocketize" these parts. Essentially, these mods are similar to the F1 EVO tail.
Talk about making-it-work!  What a workspace this is…haha!  I just moved across the country for my new job and am currently living in a basement apartment.  It's not pretty but I can work and continue to make progress which is the important part.
Front Spar Doubler – VS-002
The front spar of the vertical fin has 2 added doublers, VS-001 and VS-002.  Right now I'm working on getting the doublers clamped into position so that I can determine where the rivet lines will go.  VS-002 is shown in the picture below (on the forward side of the spar – this doubler actually goes on the rear side).  The reason that the VS-002 is clamped to the forward side of the spar is because it's longer than VS-001 and much easier to accomplish the rivet line layout on the front rather than on the back between the spar flanges.
In the photo below a few things to note are the red rivet lines.  I've extended these lines from the pre-existing rivet holes down and onto the VS-002 doubler so that I can maintain the correct edge distance.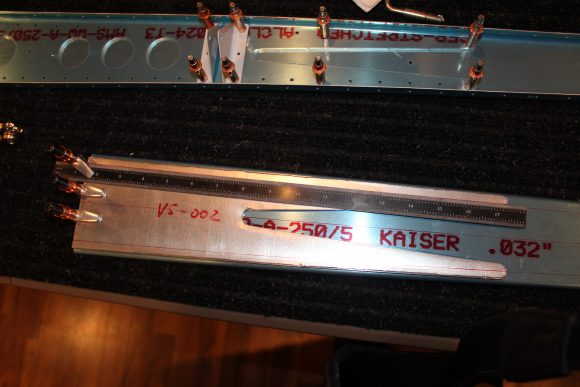 Getting the layout for these rivet lines drawn tonight was all that I had time for.  We'll continue with more tomorrow. Please comment, I love to hear from my readers.  Thanks again for coming along for this ride, you make my work worthwhile.